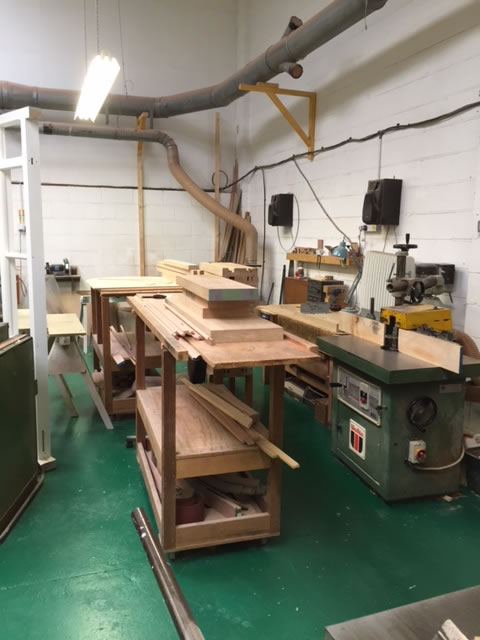 Joinery and carpentry are both wood based construction trades. There are lots of similarities between the two skills and it is understandable that people often confuse the two. There are many areas where joinery and carpentry overlap, with lots of transferable skills between the two professions. There is, however, a big difference between the two disciplines.
The main difference between a joiner and a carpenter
A joiner is a craftsman who joins wood, usually in a workshop or factory. Joiners make doors, windows, staircases, and all manner of furniture. A joiner's work often involves using large machinery such as lathes, sanding wheels, and circular saws. Therefore, a well-equipped workshop is needed for them to complete their job.
A carpenter normally works on site fitting the products that the joiner has made. Carpenters are skilled using small hand tools which are easily transportable to different sites. A carpenter will specialise in assembling roof trusses, stud work, and floors; and will be skilled in cutting and fitting timber structures together.
Both carpenters and joiners will be competent in both professions having learned the basic skills during their training. After a broad education in the manufacture of timber products, a student will then choose to specialise and become either a qualified joiner, carpenter, or in some cases both. A good joiner or carpenter should be confident in undertaking specialised work in both professions although their expertise will usually be in a particular area.
Highly skilled joinery and carpentry
At Kirkman Joinery, we employ a team of highly skilled carpenters and joiners. This enables us to manufacture bespoke products to your exact specifications and install them to an extremely high standard. From shop fitting to loft conversions, fitted kitchens, and bespoke furniture construction; we have the skills to meet your demands.
In an age of mass production and increasing automation, hand crafted products are still highly valued in the construction industry. Most of our work at Kirkman Joinery, comes through customer recommendations. By using traditional joinery methods, we can offer a bespoke service, unavailable from larger wood manufacturers.
If you'd like to find out more about Kirkman Joinery and our range of products and services contact us today. Call us on 01494 461 116 or send us a message online.