When you're planning to install a conservatory at your home, there are lots of things to consider. Perhaps the biggest consideration is what material your conservatory will be made from. Your conservatory's frame should be strong, durable, and aesthetically attractive. It should also suit the style of your existing property.
If you live in an older, more established property, a traditional style conservatory will probably suit your home best. Conservatories are available in Victorian, Edwardian, and Georgian styles, in both timber and uPVC. Ultimately, personal preference, budget, and property type will influence your final decision. A timber conservatory does however, have many benefits over a uPVC alternative.
Why choose timber for your new conservatory?
If you live in a conservation area or Listed building, planning permission for extending your home may only be granted if you install a particular type of hardwood conservatory. At Kirkman Joinery, we can create bespoke timber conservatories to meet your exact specifications. Here are some of the benefits of choosing a timber conservatory over a uPVC conservatory.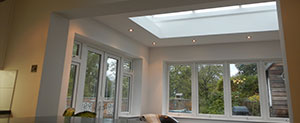 A more luxurious finish
Complete customisation capacity
Sustainably sourced materials
An almost endless choice of paint and varnish finishes
A much longer lifespan when properly maintained
Suitable for all types of property (modern and traditional)
Increased property value
A timber conservatory installation is an excellent investment in your property. It provides extra living space and will greatly increase the value and desirability of your home.
Timber conservatories from Kirkman Joinery
At Kirkman Joinery, we design, manufacture, and install hand crafted, original hardwood conservatories. Our team of joinery experts can offer you advice on the best materials for your particular situation and will work closely with you to translate your home improvement vision into a high performing reality.
Our timber conservatories have a range of glazing options including storm proof and obscure glass, and can be fitted with a variety of high security hardware. When you want a unique timber conservatory, designed to meet your exact specifications, contact Kirkman Joinery today. Call us on 01494 461 116 or send us a message online.