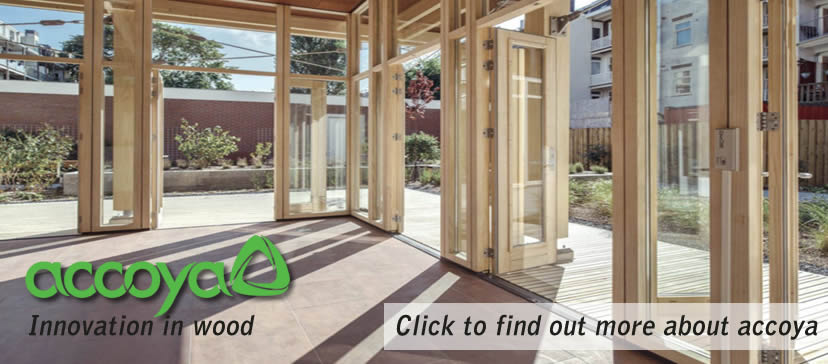 Are you planning a windows, doors, or conservatory installation project? If so, have you decided which material you'll choose? At Kirkman Joinery, we're the experts in wood. We undertake all aspects of joinery, large and small. We know which material is best suited to each individual project. Alongside traditional soft and hardwoods we also use Accoya wood. Accoya has undergone an acetylation process to improve its quality. Here are 25 reasons to choose Accoya wood for your next project.
1. Extremely durable – will last at least 50 years in exterior use
2. Thermally efficient – helps your home to retain its heat
3. Eco-friendly – made from sustainably sourced radiata pine
4. Resistant to rot and mold – the acetylation process upgrades the wood's resistance
5. Reduced water absorption – the chemical reaction improves the wood's water resistance
6. Insect repellent – the cell structure change makes Accoya indigestible to insects
7. Versatile – suitable for everything from windows, doors, and conservatories to industrial applications such as docks, canals, and bridges
8. Easy to paint and varnish – Its modified cell structure eases application and promotes longevity
9. Hardness and stability – Accoya's structure makes shrinkage reduced by up to 75%
10. Purpose grown timber – harvested from fast growing softwood forests which are continually replanted
11. UV resistant – attractive appearance remains the same for much longer than other timbers
12. Improved strength – the treatment process strengthens the wood by changing its molecular structure
13. Excellent insulation – Accoya reflects the sun's rays and retains warmth, creating a warmer home, and reducing energy bills
14. 100% recyclable – environmentally friendly, Accoya can even be composted to give back to the land
15. Non-toxic – Accoya can be disposed of in exactly the same way as unmodified wood
16. Attractive aesthetic – a smooth natural appearance, perfect for all styles of home
17. Listed Building/Conservation Area approval – Accoya products are regularly approved for use in Listed Buildings and Conservation Areas
18. Any colour you like – can be painted in any colour and even powder finished
19. Low maintenance – Improved finish adhesion means less maintenance saving you time and money
20. All year functionality – windows and doors will open effortlessly even in the hottest and coldest weather
21. Easy to prepare – less sanding is required before painting and staining
22. Easy to work – joiners report excellent machinability with Accoya wood
23. Consistent quality – from surface to core, quality is consistently outstanding
24. Tested for quality – all products are rigorously tested to ensure high performance
25. Accreditations – British Board of Agrément (BBA) accredited for outstanding quality and performance
If all this wasn't enough, every Accoya product we produce is manufactured in house by our team of highly skilled joiners. To enquire about Accoya or any of our products and services call Kirkman Joinery on 01494 461 116 or contact us online.